Remember Me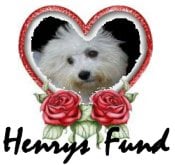 If you have recently lost a beloved Angel Fluff and would like to pay tribute to his/her life, then please fill out this form and your details will be added to our new Memorial Page, if you wish to donate to Henrys Fund for a Candle to be lit in his/her memory this would be a wonderful way of helping other Bichons within Rescue in memory of your beloved baby.

Donations for a candle can be any amount no matter how large or small, all monies go to Henrys Fund.
Should you wish to include a photo in your Memorial, please email the photo with your name and your dogs name to [email protected] and this will be added along with your tribute on our " Light Of Life Memorials Page".