Adopting a Bichon Frise
Please read all the details below

very carefully
We currently do not cover Scotland Or Ireland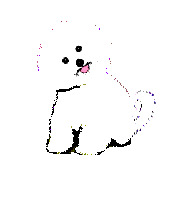 Think carefully before submitting an application form, do you fulfill the basic criteria? what experience do you have of this breed?
There are many "small dogs" needing good homes within various organisations, like the RSPCA, Dogs Trust etc, just wanting a "small cute lap dog " - isn't the right reason to apply to us.
The Bichon Frise is a complex and loving breed that craves human attention and company, Bichons do not do well being left for extended periods of time & this can be reflected in house training & behavioural issues if they are , they are also not a breed that adjust to kennels should you go on holiday, so please consider that point too.
Please do your research before submitting an application to us, this saves our time and yours.
If you would like to be considered for Adopting a Bichon via Rescue, an adoption form can be directly completed from this site (see below)
1. Please note we do not rehome Bichons to applicants that work or would leave a Bichon alone more than 3 hours a day
2. We do not rehome Bichons into homes that have children age 10 years and under ( * in certain circumstances this may include grandchildren who visit on a regular basis)
3.Your garden MUST be your own and secure, and not a shared garden .
*Whilst we endeavour to deal with applications as quickly as possible, please appreciate that we have a large amount of applications each week and this may take time to process, these are forwarded onto helpers for home checks (only if the initial application form is successful to warrant a home check)
.
4. Bichon Frise Rescue suggests a minimum non refundable £150 donation per Bichon Frise on completion of adoption to help with the day to day running costs to our organisation, we spend alot of time to try and get as much previous history about any dogs handed into us , and based on the details given to us from the previous owner and the new owner we do our best to get the best match for a forever home for our dogs, the donation is not a payment for the Bichon's we rehome,

and refunds are not given.
If you would prefer to download an application form and

submit by post

rather than using our online application system,
Please click

HERE

for Downloadable Application form and send to the address printed at the top of the form.
After completing & submitting the online form below, each form is then individually assessed and this takes time.
*If you agree to be bound by our terms and conditions of adopting a Bichon Frise from us after reading the above, only then should you go ahead and apply to us.
Make sure you complete all questions and the boxes have been ticked click " submit" there may be a slight delay as its processing to be sent through to us.
Please do not hit the submit button twice! or your form will not come through to us- press submit button once and then wait , you will then get a message that says " Thank you your message has been sent to Bichon Frise Rescue ( as below)"

Your application will be looked at by the Coordinators

We receive many applications that are not suitable for a Bichon Frise, if you don't hear from us within 6 weeks then you have been unsucessful at this point.

If your form looks suitable for a Bichon Frise from us, the form is passed to a helper who will contact you to arrange a home check.

After your homecheck, the home visit report is sent into our admin, we look at dogs that could be suitable for you which we have on file.

Please be aware that there may be a wait for a Bichon from us, depending on the information you have put on your form i.e you are looking for a certain age of Bitch or Dog, or how many Bichons's we have needing to be rehomed at that time, which can fluctuate.