Important points to look out for when buying a Bichon Frise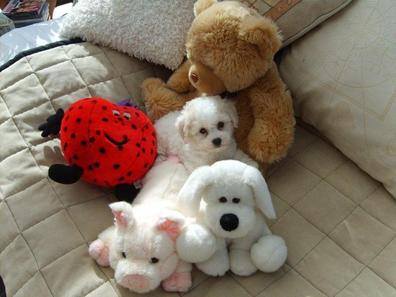 "I may look like a toy but I'm not ! "

If you choose to buy a Bichon Frise then you need to read the information below before you do.
1) Please do not resort to going through the block ads in local papers. Yes, it might seem like the easiest solution - but be warned you could be buying into a whole lot of misery, both emotionally and financially.
2) Stay away from any breeder who offers you a multiple choice of breeds. This is not how puppies should be kept or sold.
3) You are looking for a small breeder who really only has 1 perhaps 2 different breeds, and will let you come and see the puppies with their Mum and will answers all of your questions. Never ever let anyone bring the puppy out to you - you need to see the puppy and Mum together. If the person selling you the puppy tells you that this is not possible walk away.
4) Never be tempted to purchase your puppy from a pet shop Click here for the puppy alert site who name and shame shops /dealers and breeders who sell puppies - PLEASE DO NOT BUY FROM THESE SHOPS!!
Many people are going into these places and can't resist leaving that lonely looking pup in the shop, some people even end up coming out with two as they can't bare the thought of leaving the brother or sister behind. As soon as one dog is sold it will be replaced very quickly.
The more people buy from these places the more bitches will be used to breed from and sold via commercial outlets such as these.
5) We cannot stress enough that the pet shop trade is a life of misery for the breeding bitches, stud dogs and puppies. The wastage from this inhumane trade is sickening. You might think that you are saving any puppy that you purchase from these shops - but all you are doing is condemning even more puppies and older dogs to a life of more suffering. These poor puppies are bred on Puppy Farms. Puppy Farms are breeding facilities that produce purebred puppies in large numbers.
The puppies are sold either directly to the public via the Internet, newspaper ads, pet shops, at the Farm itself, or are sold to agents and dealers. Please stay away from them. Sadly not all puppy farmers are not how you may percieve them to be , ( dirty smelly kennels) some are sold from nice homes as the shop front to sell the dogs from.
6) So you have finally located your breeder and you have made arrangements to go and see them. They sound really nice, they also run a boarding kennels and tell you that dogs are their life......
7) When you get there they may tell you that the mother of the litter of puppies is not well or staying with a relative so its not possible to see Mum with her pups- this is when alarm bells should be ringing with you.
If this is the case they may be coming from a puppy farm - start asking questions, ask to see all of the puppies with their mother.
Take a look at the conditions they are living in, look at the condition of all the puppies (if you are allowed to see them. Are you able to tell what age the puppies might be? Do they seem happy and socialised or do they cower away.
Do they look clean? healthy? what about the demeanour of the puppy, confident ? nervous?
Ask who the Vet is and if the puppies have been seen recently.
It is not easy is it? But if you do your all of your home work before you go and see the puppies, you should be better armed and able to spot anything that is not right. If in doubt ask for time to go away and think about it! A good breeder will not put any pressure on you.


Points to remember:
A good responsible breeder will want to know just as much about you, as you do about them and their puppies i.e your lifestyle, if you work fulltime, if you have young children ? etc.. they may also ask you to visit a couple of times before the puppies are allowed to to go home with you at 8-10 weeks old.
Ask to see the puppies with their Mum, and never meet somebody to collect a puppy, or allow a puppy to be delivered to your home.
Don't take a puppy from a breeder earlier than 8 weeks.
Expect to pay between approx £500 - £850 from a reputable breeder, many Bichons are now being sold from £150 - £450 on the internet or at worse " free to good home"
DO YOUR HOMEWORK !! - ask the right questions , do your research about the breed & breeder before you buy any Bichon puppy
Please note that some people selling Bichon Frise will supply their puppies with "paperwork" - not the official Kennel Club you think you are getting , some of the paperwork is fake and just a pre printed form with hand written details.
People that sell Bichons via the internet and newspaper ads often say that their dogs are come with "papers", some are merely computer/hand written certificates with "pedigree" at the top, others are like the sample below.
Sample of Dog Lovers Registration Club certificate (

Some Bichon's come with this certificate via certain pet shops

)
This is NOT the same as a Kennel club registration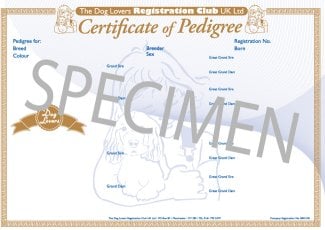 Here is the Official Kennel Club Pedigree certificate either 3rd or 5th Generation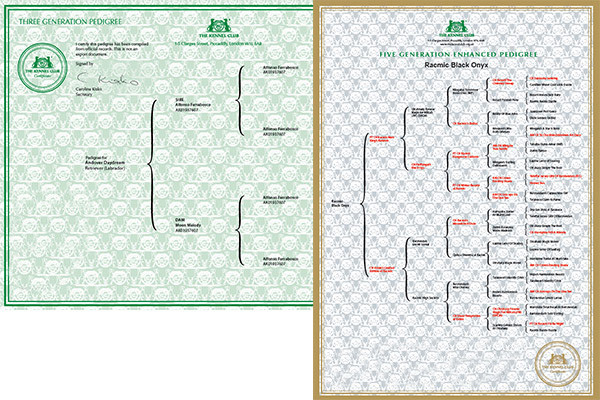 About Private Sales (Internet / Free Ads) :

Epupz, Preloved ,Gumtree , Facebook
Ask why they are getting rid of the dog? - many people say they are leaving to go into rental housing & and can't take the dog, or change in work hours, or " I am ill and can't look after my dog" ( may be true but don't be afraid to ask questions) the dog is going to be an integral part of your family and you need to know as much as possible.
THE TRUTH COULD BE THAT THE DOG IS ILL OR AGGRESSIVE- HENCE THE SALE. ( This happens with dogs from 1 year up for a sale or listed as "free to a good home"
Ask for their vets details

and get them to request that their vets fax a

FULL

medical history of the Bichon through to your own vet before you buy, to verify that there are no health problems or aggression issues that may have been documented by their vet but the owner didn't tell you at the time of enquiry. ( this may apply to older dogs for behavioural issues and thats why the dog is being sold)
Remember if there are any problems ie biting or ill health, the person you bought the dog from will not want to take the dog back !!
The previous owner shouldn't object to a vet history being requested if its a genuine reason for the dog being rehomed.
PLEASE TAKE THE TIME TO DO YOUR RESEARCH, IT MAY SAVE YOU ALOT OF HEARTACHE AND MONEY FOR THE FUTURE AND NOT LINE THE POCKET OF UNETHICAL BREEDERS !!.