Light Of Life Memorials


T

here's a whistle up in heaven
And it wasn't there before.


And all the angels heard it
When you knocked on Heaven's door.
Now Heaven is a better place
Than what it was before,
And our lives are less without you...
Now and forever more
For beautiful background music " Ave Maria" click "The Angel" below, then minimise Media Player to read the light of life memorials. (There may be a slight delay whilst loading)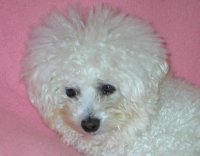 Taken away from us too soon
Run Free my little angel girl.

Name : Oliver
Age : 8
12/6/1996 - 21/2/2005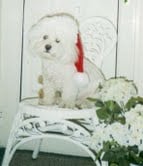 A wonderful little boy who brought us so much joy and
happiness.You are missed everyday but you left us so many beautiful
memories.
You live on in are hearts darling.
Run free at the rainbow bridge.. Till we meet again .
Love Mummy and Grandma xx


17/12/2004 - 5/10/2015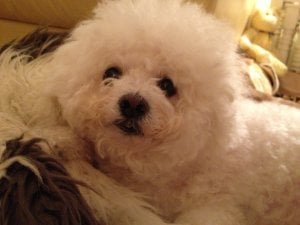 Our beautiful Louie
If love could have saved you you would have lived forever
Love Mummy and Grandma
Till we meet again our darling boy - sleep tight xx


Name: Millie
Age 10
5/2/2002 - 2/8/2012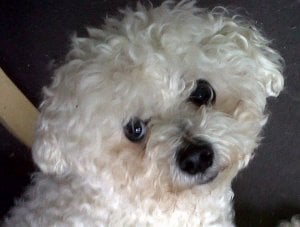 Milly a beloved sweet baby girl, run free now to the rainbow bridge
xxxxxx


Still thinking of you my precious boy
Until we meet again, goodnight & godbless
Your brokenhearted Family xx

Name : Ellie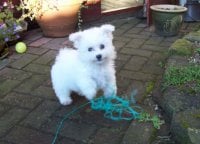 You only lived a very short while my darling,
But in that time you brought me more love than I can ever say
I miss you terribly sweet little girl
Sleep well with the Angels,

Bonnie Bubbles was my baby
She was so laid back and with such a gentle nature, she was a joy to own
Or should I say she owned me ? she would melt your heart, and heaven will be a better place for having her, but my heart has broken into a million bits.
I will always love you Bonnie xx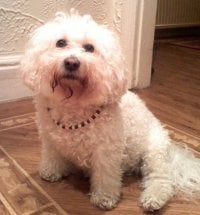 Beloved Oliver, you brought joy and happiness into our lives daily.
We hope we gave as much joy back to you.You will make a beautiful Angel.
Sleep in peace gorgeous boy, your loving Family xxx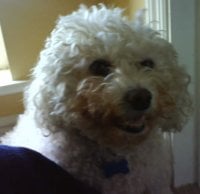 Sammie came from Bichon Frise Rescue, eleven years ago she was 3 years old and had been rehomed three times previously.Like most rescued pets she had nervous quirks, that only added to her already loving personality.
Although her last year wasn't of the highest quality due to her heart murmur
she was laid to rest knowing we had given her a loving home after her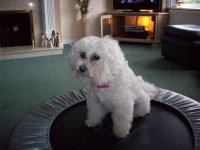 Our Little Ellie still missed so much and always will be in our thoughts.
Enjoy playing in the clouds and walkies with Grandad.
Mummy, Daddy, Jade, Connor, Georgie & Molly xxxx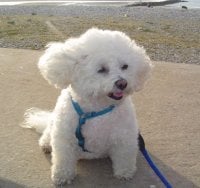 Frosty, our princess, now playing with the stars up above, you filled all our lives with joy and with love.
You were so special and cherished right from the start, your memories and love will stay forever in our hearts. xxxxxxxxxxxxxxx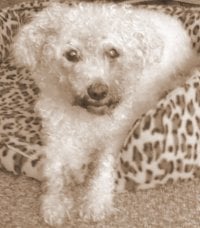 If we could have a lifetime wish, a dream that could come true,
We'd pray to god with all our hearts for yesterday and you,
A thousand words can't bring you back, we know because we've tried
And neither will a million tears, we know because we've cried,
You left behind our broken hearts and happy memories too
But we never wanted memories- we only wanted you
Miss you so much Maxi boy, Love you always xx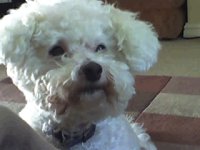 Miss you and love you lots little bear. J XX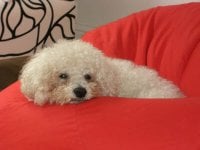 My soul companion who we all dearly loved and miss so very much. I feel I have a hole in my heart, now he is gone to the 'kennels in the sky where he will be reunited with others who loved him as much.
Sleep peacefully my darling xx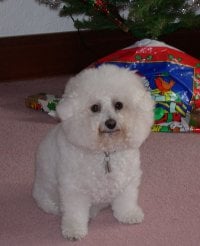 You were such a happy little lad, despite suffering from epilepsy from the age of two. Then you were suddenly taken from us with leukaemia.
We are still heart broken and miss you so much.
Mum & Dad
xx


I love you now and forever xxxx






Name : Rupert


Age 15
10/6/1994 - 21/12/2009

There was never a better friend, we have an ache in our heart and a vacant place by our hearth.


Name : Jazz
( Vythea Phileas Fogg)
Age 14 Years 17 days


1/12/1995

- 18/12/2009
Jazz, Dads Mate
Y

ou enlightened our lives with love.




You made us laugh with comical ways




You did us all proud in the show ring




You stayed with us for as long as you could, and we wish you were still here




We will never forget you Jazzie and you will be in our hearts forever




Rest in heavenly peace with Rawley




We miss you very much. x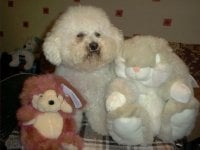 Name : Tilly
Age 14
June 1986- 4/1/2010

My beautiful Tills who was my life my love and best friend. I will never forget you - ever. I feel so lost without you.



Name : Poochi
Age 5


Fun-loving,bright,bubbly,yet bold we still honour him today for saving our lives from the dangers of a forest fire!!We still belive his soul roams with us throughout life we never thought we would lose him but we did from the simplest thing of not supervising him outside.
We love you forever Poochi we always have with lots of love and care,
Giannella and family along with our new dog Luna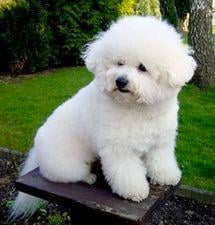 Name : Rawley & Jazz Ages 10 & 14

My two special boys.
Rawley & Jazz.
Re-united together at Rainbow Bridge.
My life won't be the same without you both.
You will never be forgotten and you will always be in my heart xx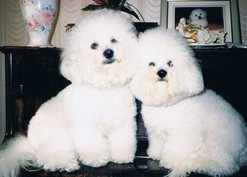 Name: Louie

Age 13 1/2
13/10/1995- 3/1/2009
I was lucky enough to have you for such a long time, you were one of a kind. You were such a laid back cheeky chappie, you were definately well named -Lord Louie, love and miss you so much, love Mummy xxxxx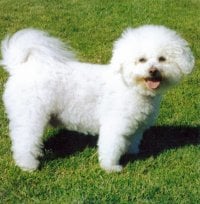 Name : Maggie Mae
Age 5 years


26

/01/2004 - 9-12-2009

Run free my little Silver Girl, you will be in my heart forever.


Name : Holly
Age 11 years
passed away 15/2/2009

To my darling girl,You taught me so much, your legacy will last a lifetime



Name : Todd
Age 14
passed away 4/3/2010

To our boy who is so sadly missed. You gave us unconditional love and so much joy despite your horrible start to life. We will always miss you. You have left a great big hole in our lives. Look down on us with fond memories and take care.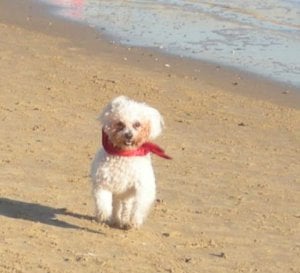 18/02/1998-22/03/2010
Our little ball of fluff that followed me everywhere, you will always be in our hearts and thoughts
Take care little Angel xxx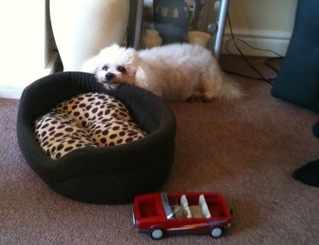 Date of passing May 5th 2010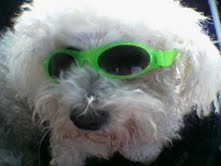 Sid you have been truley loved, and we are all going to miss you so much .
The Severn Family xxxxxxxxxxxxxxxxx


Snowbell was the love of our lives,nothing can replace her in our hearts, but once the grieving is over myself & my wife would
like to give a loving home to a rescue Bichon.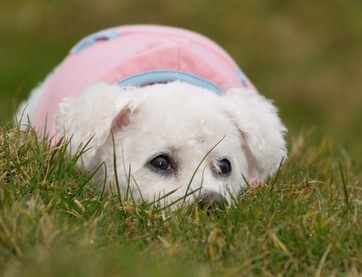 To Our beloved Angel, Misty Moo
Thank you for being the little girl we could never have and for being so special to us and all that knew you.
We will miss you and remember you always darling, for you will always have a special place in our hearts.
Lots of Love Mummy & Daddy xxxxx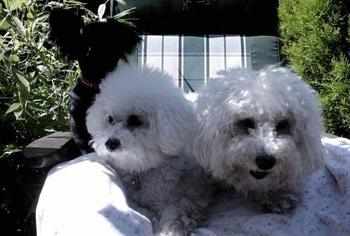 Love you forever our Georgie Porgey, have fun with your sister Ellie, and Grandad.
We will never forget you, give Ellie a big cuddle from us too, and we will all be together again one day.
Lots of love always, Mummy , Daddy, Jade, Connor, and little Molly xxx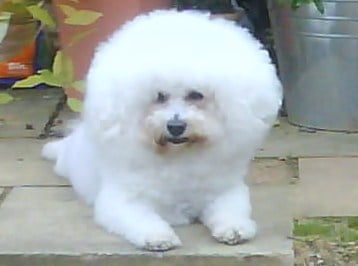 Our Beloved Max, Its been 10 months since you died, but we miss you so much.
Your presence we miss, your memory we treasure, loving you always, in our thoughts forever
God bless our beautiful Maxi Boy
All our love from your Mum, Dad, and brother Bertie Buttons
.


Name : Sophie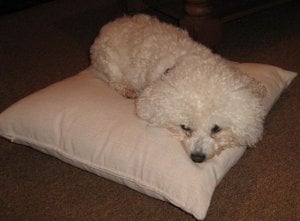 23/5/1999- 1/06/2009
Dearest Sophie, we loved you so much a day never passes when we don't think about you.
Rest in peace our little Soph


Age 22 Months
16/1/2009 - 20/10/2010
My Twinkle was my best friend and so loving my heart and my kids hearts are broken. I thought we had many years ahead but it wasnt meant to be. I cant stop my tears Twink , to think ill never see you ever again or kiss and cuddle you. Miss you my baby please stay around me xxx you were so unique and my twins life is never going to be the same,we love you xxx


Name: Pepsi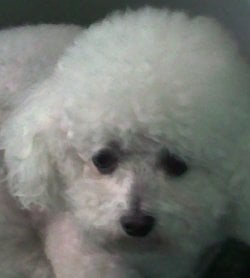 Age 12 years
1998-2010
We were blessed with having you,but only for a short while Pepsi, we miss you so much.
Our hearts are broken there are no words to express how we feel.
God has taken you Pepsi but your memories will forever be with us
Love you forever xxxxxxxxxxxxxxxxx


Name : Milo
Age 15
passed 9/1/2010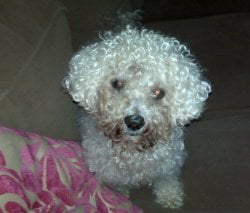 It's been nearly a year since you passed but I miss you more every day. I hope I made you happy in the 5 years since I adopted you and I wish more than anything that it had been longer. Love you always Mr Milo x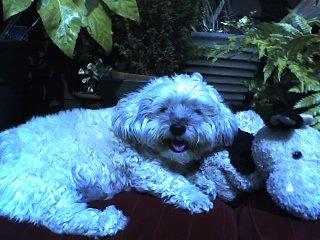 We miss our beautiful boy every minute of every day.
We are heart broken we miss him so much o' my beautiful Teddy


Name : Snoopy
Age 15
1/1//1996- 15/12/2010
Snoopy we miss you so much. lots of love from your Mum & Dad & Sasha your companion for 13 yrs.


Name: Sammy
Age 12 yrs 2 months
17/2/1998 - 26/4/2010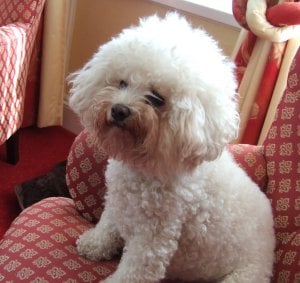 The pain is still so strong Sammy dog, Dad and I miss you oh so much. However,we feel so special that you spent your life on this earth with us "THANK YOU" XXXX


Name : Ollie
Age 8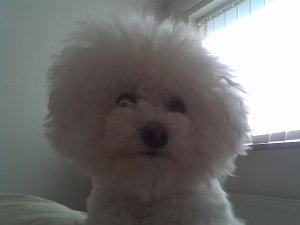 Our darling Ollie Bonce, the best dog in the world, such a cheeky little monkey, daddys boy, never left our side, little softie! We all ask why you were taken so soon, but you were borrowed and god wanted you back.
Forever in our hearts, memories we will never forget, miss you so much, kisses to our little boy xx


Name: Benji
Age 16
29/9/1994 - 4/2/2011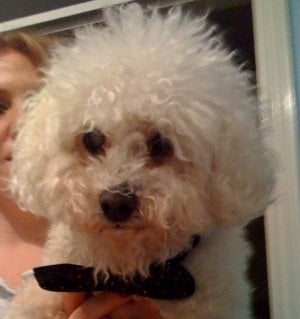 Our lovely son as we called him was such a blessing to the family. He had a sister Bonnie who passed away two years prior. They were a joy to have and we loved them dearly and we miss them every day.


Name: Fraggle
We lost our fabulous Fraggle this morning after ten wonderful years with him.We are going to miss him every day.


Name : Casper
Age 9 years & 6 months
19/8/2001 - 23/2/2011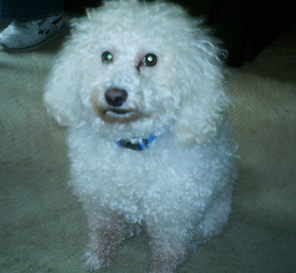 We rescued you from a rescue centre when you were 5yrs old but i think it was you who rescued us,we miss you very much.
You will always be in our heart and you will always be our little man.
mam,dad and shell.xx


Age 10
7/12/2000 - 17.5.2011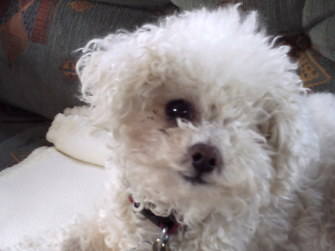 There is a hole in our hearts where you lived. We will never forget our little sweetie. Mitzi misses you very much too.


Age 7
20/6/2004 - 6/3/2010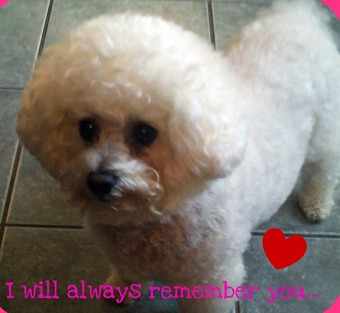 Me and Nanna miss you more everyday. We always think of you and we wish you were here. You were amazing Lillie Bell.

I will always miss you Honey. xxxxxxxxxxxxxxxxxxxxxxxxxxxxxxxx


Name : Molly
Age 11 years 6 months
1/8/1999- 23/2/2011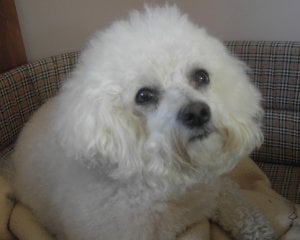 Missing you loads, life is not happy without you darling.
sleep well poppet will be with you soon.



Name : Dexter
Age 11
11/5/2000 - 2/6/2011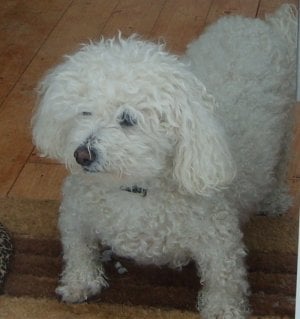 My boy,deccy boy,my little fella,i loved you so much,we all did and everyone that met you,such a character you always actually said hello when we came through the door,we miss you and your greeting was like nothing else,you left us suddenly but i know your spirit is still here,sleep tight baby boy till we meet again.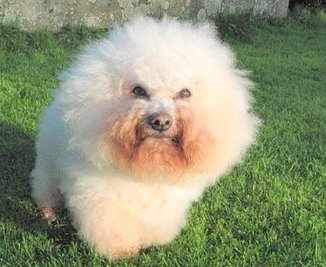 Dougal, I will miss you more then anyone will ever know. My Dougal, who was always there for me, who always ran out to meet me. My Dougal who slept with his head on my pillow.
Goodnight my friend


love you my baby miss you so much...havent stopped crying since you went away..love you so much always mummy is always here thinking of you...brought so much love and joy into my life...really made me happy...most beautiful angel i ever met will love and miss you forever..hurting so bad baby...i hope you are in heaven and i hope you are free and happy...you were my child may as well have given birth to you miss our cuddles and kisses and you made me laugh more than anyone i ever met...most adorable baby i ever met....you mean everything to me. Love you baby kiah miss you till the day i meet you again...best cuddler in the world....most beautiful baby ever...love you sweetheart so much miss you so much...miss most of all the way you looked into my eyes....my soul mate forever xxxxxxxxxxxx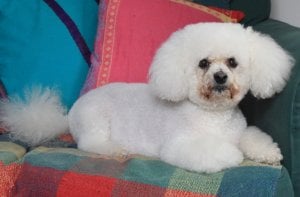 You were only with us for two years but filled my life with love and happiness. Home now has a void and feels empty. Goodbye my lovely beautiful and perfect little boy. I miss you so much. Mummy x

Name : Ludie ( Loood)
Age 11
17/12/2000 - 28/08/2011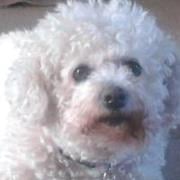 Miss and love you lots my little girl. Have fun at Rainbow Bridge with Tabitha and your brother Casper - give him a kiss cuddle from Mummy xx


Name: Digby
Age: 11
3/03/2000 - 16/09/2011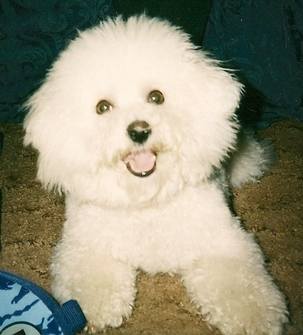 We love you always Digby, and miss you so much! Best doggie in the world! Our family won't be the same without you, have a good nap xxx


Name : Benji
Age 8
1/7/02 - 26/12/11
To my wee shadow. I miss you every day. I still see you, just out of the corner of my eye. Thank you for loving me. Hope you and my dad are enjoying long walks. Lots of love always little boy. Xxx




Name : Seamus
Age 9
june 2002- 13/9/2011
YOU HAD ME WRAPPED ROUND YOUR LITTLE PAW. BUT IT WAS WORTH EVERY MOMENT


Name : Max
Age 12
31/10/1999 - 5/12/2011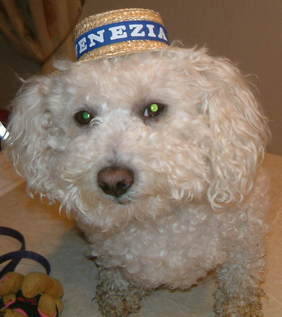 You were always there for me through the loss of your "Dad" and "Auntie Connie". Give them a big hug from me. You're now free of pain. RIP my little man.
Never to be forgotten. Chris xx


Name : Vegas
Age :15
11/9/1996 - 28/1/2012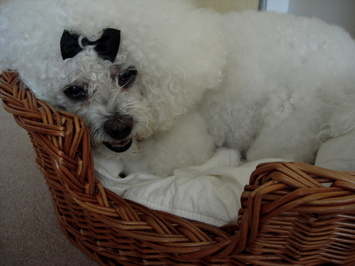 I have never felt hurt as much as I do now. I miss my
precious baby so much. you'll have a fantastic time at Rainbow Bridge and
Mummy will see you again one day. I will never forget you princess Vegas x
x x night night sweetheart x x


Name : Leo
Age: 13 1/2 Yrs
23/7/1998 - 27/1/2012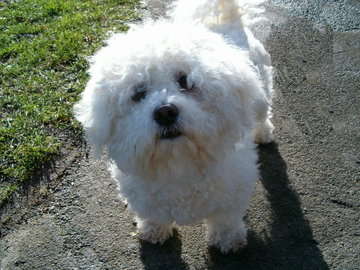 My beautifull LEO mummy loved you so much i cannot
believe your not here with me anymore my heart is so broken, mammy will
look after your brother Jack until he comes to play with you again in

heaven and one day mammy will see you again until then big lad godbless
xxxxx


Name : Ollie
Age: 15
1997 - 9/2/2012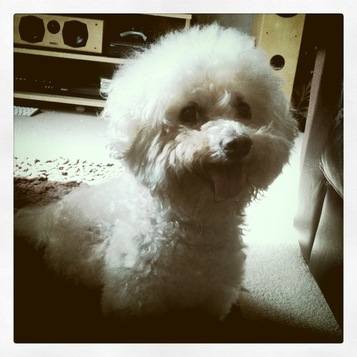 Ollie fell asleep in his mummys arms, he was loved so
much and has left us heartbroken,you have some awsome mates to play with
now you are with Benjie , Tug , Barney and Annie and Grandma Joan will
spoil you . Love you forever my gorgeous boy xxxxxxxxxxxxxx


Name : Billy
Age 13
12/2/1999 - 11/3/2012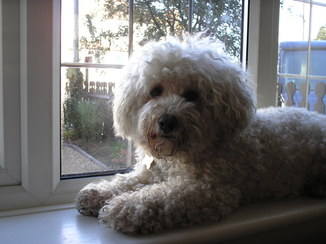 I thought I heard the softest bark
There it is again
Did you come to say hello
Our dearest faithful friend

I thought I saw you laying
In the corner of the room
Where the shadows gather
Protected from the moon

I thought I felt you sleeping On the bottom of our bed
If I stretch my hand to touch you will I feel your curly head?

I thought I heard your little feet upon the wooden floor
I thought I saw your dear, dear face peep round the kitchen door.

I thought I heard the softest bark, oh dear Billy was it you?

Our darling boy, we miss you so much, you were kind, gentle and devoted.
We loved you so.


Name : Daisy
Age : 13 years old
19/1/1998 - 22/3/2011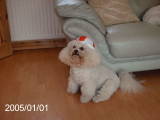 Our hearts were broken the day you went away,
We miss you so terribly each and every day,
Your comical little face, your funny little bark,
Oh what a cutie everyone would remark!

You bought us more love than we can ever say,
We miss your beautiful big brown eyes and how you use to play,
You were so happy and had a smile on your face,
Now god has taken our angel to his resting place.

God bless my darling Daisy, love Mummy,Daddy & your sis Poppy.xxx


Name : Bonnie
Age 11 Years
1/9/2000 - 17/10/2011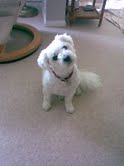 To my beautiful, beautiful darling Bonnie. We love and
miss you so much. Mommy and Ted will never forget you. Sleep tight my
Angel.


Name :Robbie
Age :11 years
12/2/1999 - 18/9/2010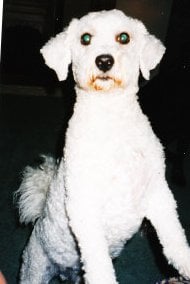 Our dear Robbie, we miss you lots. Always thinking of
you every day.
Love from us all and Tilly Trotter XXXXX


Name :Barney
Age : 16 yrs
30/1/1990 - 30/3/2006
Dear Barney, You were the most beautiful little dog in
the world. So very loving,you didnt have a bad bone in your body.
We brought you home to live with us when you were 8 weeks old,you were a
little white ball of fluff.
You loved us and Bluey,our Old English Sheepdog was your best friend, and
you pined for him when he went to Rainbow Bridge.
Thank you Barney for coming into our lives and loving us all so
unconditionally.
The 30th March 2006 was the worst day of my life,my heart broke into a
million pieces and 6 years on remains broken.
I will love you forever, Baby Jack our little Lhasa came to live with you
on 30th September 2011,tell him we love and miss him too.
We hope you and Jack have found Bluey and Ben.
Wait at the Bridge,mummy will come find you. In the meantime,stay together
and watch over us..You are Our Angels. God bless you all.


Name : Benji
Age: 13
1998- 2011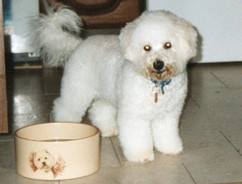 Not a day goes by where we think of you you were such
a brave little boy miss you loads xx


Name : Suzie
Age 11
23/10/2001 - 9/5/2012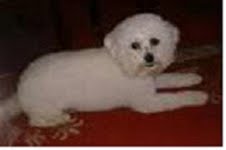 Suzie decided to take a forever sleep today, she will
alway be our princess. she will be running with her best mate Harley the
german shepherd


Name : BJ
Age 12
1/11/2000 - 14/5/2012
I could never have asked for a better friend than BJ,
he went with me all the time and protected me where needed. BJ will be
missed by many, but one day we will meet again. Love You BJ with all my
heart!


Name : Mollie
Age: 8yrs 4 months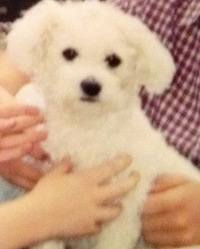 28/12/2003 - 8/5/2012
Our wonderful brave miracle Mollie, your always be our
first baby, love you always xxxxxxx


Name : Barney
Age: 13 yrs 4 months
30/1//1999 - 10/5/2012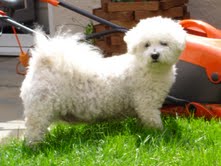 Barney, thank you for allowing us to share your life.
You have given us many happy memories and we will never ever forget you.
We miss you everyday and wish that you were still with us. Please wait
for us at rainbow bridge. Sleep tight little Barns x


Name : Bobby
Age 15
1996- 10/8/2011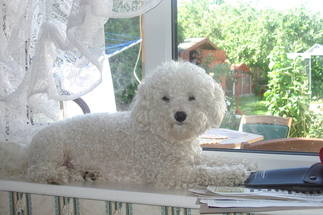 Bobby Dog, we were your third, but Forever Home. You
helped us mourn our little Yorkie, Bess and became a companion for Daisy,
our rescued Maltese Terrier. (Daisy fell asleep in June 2012, a grand old
age of 17 - we know she missed you).

Thank you for letting us love and look after you - you had a very
traumatic early life, but we took our time to get to know each other and
let you recover to become the nicest dog we have known - you made our home
complete.

Although your place in our hearts will never be filled, we promise you we
will love and look after any Bichon Frise/s that needs us, in your memory.

Rest in Peace Bobby.


Name : Buddy
3 yrs 9 months
21/10/2008 - 30/8/2012
Our darling boy buddy you was taken from us at such a
young age,we will think of you every single day and you will be missed
very much.you was such a little character bud,you bought us so much
happiness in our lifes,we will hold onto all the great memories you bought
to us all.sleep tight mummys angel god bless you darling.from your
heartbroken family.xxxxxx


Name : Benji
Age: 13 years 8 months
6/12/1998 - 31/8/2012
Thank you Benji for all the joy, happiness and funny
times you gave me over the days and years of our lives together. You are
in every flower I will ever see again and in the whisper of the wind. I
will miss you every day for the rest of my life. Wanna go on a walk Mommy
Slapist?


Name : Biscuit
Age 12yrs 6 mnths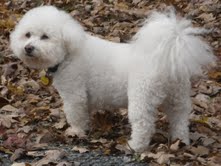 You took the weight of the world off me and replaced

it with your love. I loved you more than anthing or anyone in the world
and looking forward to seeing your face and holding you once again in my
arms.


Name : Rigger
Age 8
To my baby bichon Rigger,thank you for the time we had
you and for just being you.We lost your brother Fergie a year ago,never
thinking we would lose you so soon.Fly with the angels wee man,till we
meet you again..Mum,Dad,Debbie,Liam and all the family,goodnight rigger xx


Name : Disney
Age 15
27/5/97 – 13/10/12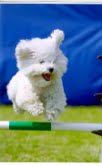 Our wonderful little dog has now gone but will not be forgotten. From a dog being shut up in a flat all day to a Crufts agility finalist and TV star he was a one in a million. We miss him so much and he will always be our 'Special one'.
Lots of love Mum, Dad , Cia, Anto and Baby.


Name : Poppy
Age 5
03/12/07 - 19/10/12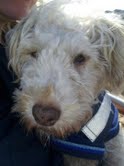 Sadly we didnt have you long enough as you were a very
poorly little girl but we are honoured to have been able to love and care
for you for the last ten months - run free little girl xxx


Name :Toby
Age : 11years 2 months
17/10/2001 - 3/1/2013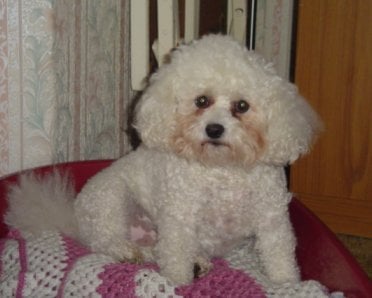 You came as a puppy to foster for a few days and
never left, how could someone not have loved you.
The happiness you gave cannot be measured, the little things you did, you are
not forgotten, everyone who met you loved you.
You coped so well with your Diabetes and Cataracts, they never stopped you
from being happy. But it all became too much and we had to make that
awful decision but you are now out of pain and at peace
We miss you so much.
We will meet at the Rainbow Bridge , "My Little man"


Name : Nugget
Age: 13 yrs 7 mnths
11/1/1999 - 31/8/2011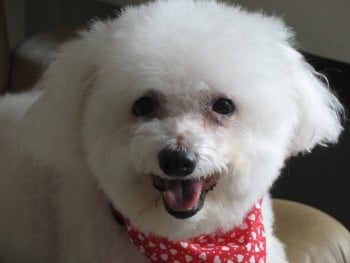 My dearest little friend. You were the sweetest little
girl. I miss you every day.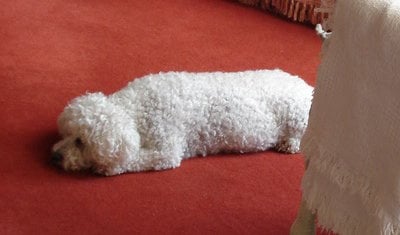 Josh came to us from Bichon Rescue along with his pal
Jack. Josh has given us much pleasure and love in his time with us and we
are so glad we were able to take care of him. He will be missed by us
all. God bless Josh xxx


Name : Dolly
Age 14 months
26/11/2011 - 2/2/2013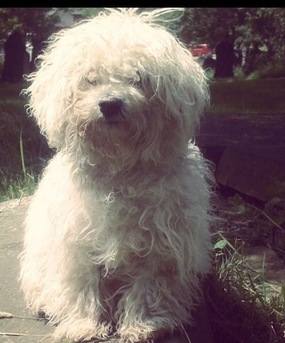 My sweet Dolly Malone
You brought us so much laughter with your cheeky ways.
You were a fighter my little baby.
Taken away from me so young we just wanted to grow old together.
I love you so much,My Dolly Malone, Mammy will see you soon for cuddles
xxx


Name : Todd
passed away 4/2/2013
Aged 12 yrs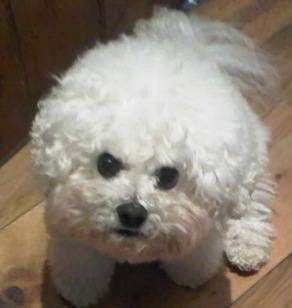 Todd
Our lovely boy , faithful and loyal to the end .

Gone from our home but forever in our hearts .
Love , Mum, Dad , Charlotte , Tilly . Nannie and grandad xxx


Name : Henry ( Beebop)
14/10/2001 - 21/4/2013
Age 12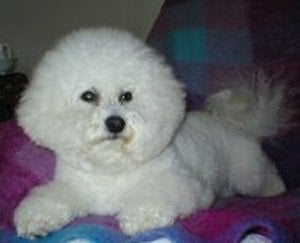 Today we lost the light of our lives, you were a beautiful little boy who brought such joy to us all.
You melted the hearts of everyone who met you
God bless our gorgeous Beebop
There will never be another "prince" like you
Run free at rainbow bridge little man.
You will live on in our hearts forever
Mummy & family xxxx


1/8/2001- 16/5/2013
Age 12
Sally you were our best friend we rescued you and
loved you from the start.
I still hear your bark and feel your lick..
We will see you one day in Heaven.


24/4//2008 - 10/5/2013
Age 5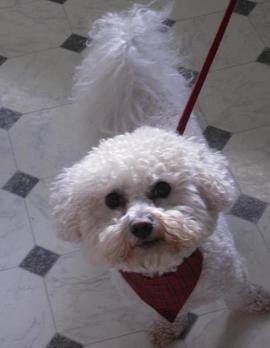 You was such a beautiful & special dog. Our hearts are
breaking, no words can express how much you meant to us. You brought so
much joy & happiness to our lives and was the life & soul of our family.
You was such a happy & brave little man, despite suffering from epilepsy
from the age of 18 months, life can be so cruel & unfair, you was taken
away from us far too soon. You are missed everyday, you will always be in
our hearts, we will treasure all the memories of our happier times
together.
I hope you find happiness at Rainbow Bridge, you deserve not to be
suffering anymore sweetheart.
Sweet dreams Sammy Doodles.
Lots of special love. Mummy, Daddy, Imogen & Ford-Lee xx xx


21/1/1999-30/5/2013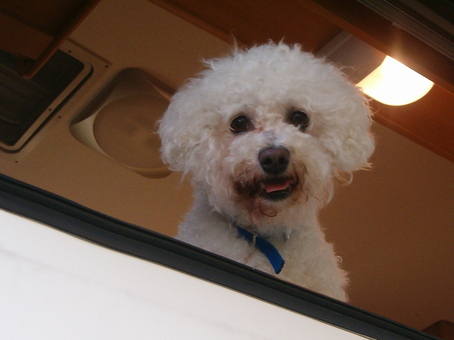 You loved me so much jack and i loved you...i will
always remember you..go and play in the green fields with your brother leo
who i also loved so much..you both gave me so much thankyou my boys jack
and leo xxxx


Age 9 years
21/4/2004 - 29/6/2013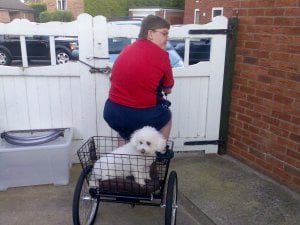 My beautiful Alfie baby.
I loved you so so much
I am heart broken and so lost without you.You were my world.
The only thing that gives me relief is to know that you will suffer no
more and your Daddy will have greeted you in heaven.Mummy loves you baby
you will always be in my heart.xxx


Name : Nellie
Age 14
passed away 8/8/2013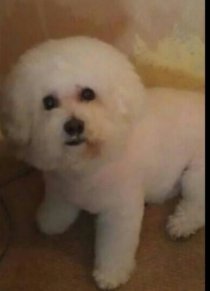 You will be forever missed and forever loved.
Run free at the rainbow bridge little girl,

14/4/2000-20/8/2013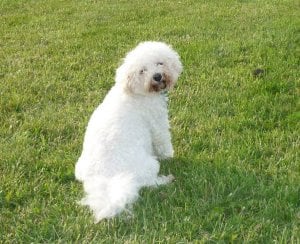 This is our lovely family dog, he was full of fun and
energy and was always made up to see us. He would lighten up the most
darkest place with joy. He'll be greatly missed and never forgotten R.I.P
Snowey, we all love you! xxx


Age 12
31/10/2000 - 9/8/2013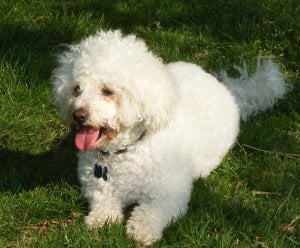 We will never forget you.
Our lives are missing a huge personality and a beloved friend.


Age 4yrs 7 mnths
10/2/2008 -27/9/2012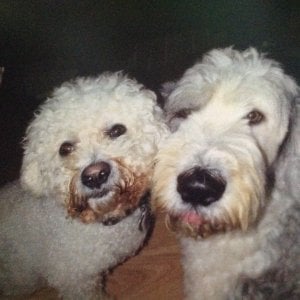 My Beautiful Thomas,
You brought so much love with you when you came to live with your new
family.
Buddy,our Old English Sheepdog and you loved each other so much.
You started limping a little in Aug 2012 we took you to the vet,he didn't
think it was anything bad he thought you had just twisted yourself and
gave us meds to give you.It didn't 'improve so you had an X-ray which
just showed a slight luxation in your hip,but he was not concerned.You
still did not improve and you started to be really sad,we knew you were
not well but we thought it was your leggy.The vet asked me to take you to
the surgery on 27th Sept last year,he was going to sedate you and take
fluid from your joints to rule out infection.Laura dropped you off and a
couple of hours later the vet rang to say you had allowed him to
manipulate your legs and they seemed ok but he was concerned for your
spine he asked permission to do an MRI scan.
Two hours later he called back to tell me that you had passed away whilst
under the scanner,and he could not tell us why,your scans were clear.
You were only 4 years old,I couldn't believe what I was hearing.
It will be one year thus Friday since we lost you.
I miss you so very very much and I love you with all my heart.,Buddy was
so sad for such a long time too.
You were a special little man with a heart of gold.
I will love you forever,we all will,and wherever I go,you are with me in
my heart.
I think of you and speak to you every day,on Friday my heart will break
again.
God bless you my little angel, wait for mummy xxxx


Age 11
13/7/2003-16/8/2013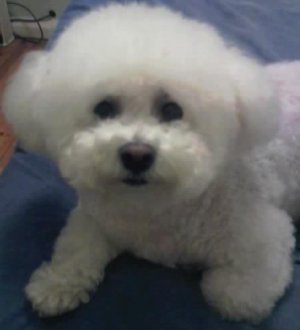 My beloved son Pepys, words can not convey, how very
much we miss you. This is because you give us so...much unconditional
love, hope & joy. Your fantastic loving nature will remain with us both
for the rest of our lives. I know I will see you again & we will be
together forever. Lv Mumsie & Daddy xxxxxxxxxxxxxxxxx & hugs !




Age 16
17/9/1997-28/9/2013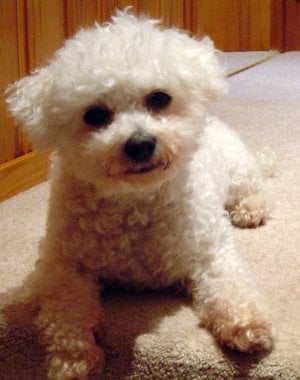 Jim and Sue Kennedy wish to honour the little pixie of
a Bichon, "Joley" Page. Her Mom & Dad (Denice & John) will miss her
terribly. Thank you Joley for staying with them and Tasha for so many
years.


Age 14
19/1/1998-4/10/2012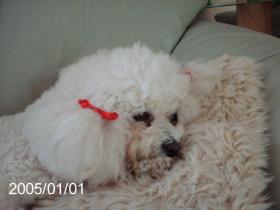 My darling little Pops I miss you so very much,
What I would give for just another touch,

I miss my little shadow following me around,
Or curled up on my lap where you could be found,

Both you and your sister Dais were such beautiful little girls,
With your white fluffy hair & abundance of curls,

I miss you darling Poppy with your funny little ways,
But you've now gone to join your lovely sister Dais.

God bless darling.
Have fun together.
Love Mummy & Daddy.xxx


17/8/1996 - 12/9/2013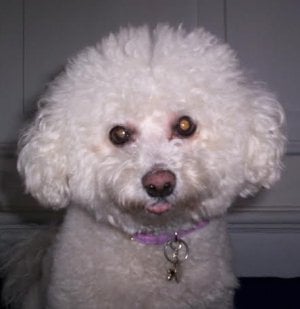 My darling little girl miss you so much hope you are
with Grandma and Rosie now. I will love you forever xxx


16/6/2006- 6/2/2014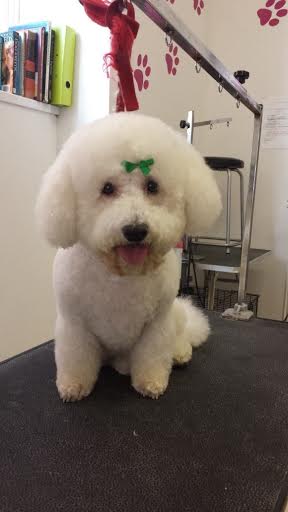 Basil darling, we are so sorry you had to leave so
suddenly. Our hearts are broken, our tears just flow. Please wait for us
in heaven, just by the Rainbow Bridge where we know we will be together
again forever. Daisy is a wonderful support to us and you taught her well.
God bless. Xxx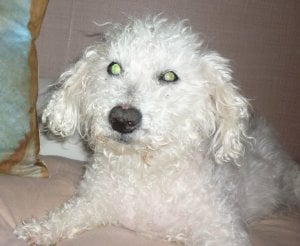 Our beloved Barney "bub" who is now finally at rest,
reunited with his big brother our Snowey. R.I.P darling we'll always love
you both and never forgotten! xx


24/5/2001 - 24/2/2014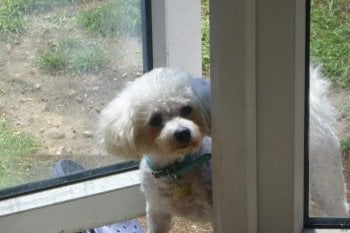 Taken so suddenly it broke our hearts. You gave us so
much joy, we miss you every day, we love you always Baby...we'll be
together again some day xxx


Name : Tigger
Age 12
27/4/2001 -12/3/2014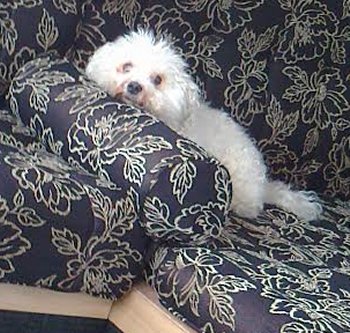 My darling tiggy, you came to us from bichon rescue 7
yrs ago, you filled our lives with so much joy, you were never left alone
and came everywhere with us as a family. sadly, last Wednesday (12-03-14)
at 1pm you left us heartbroken, I lay with you at home while you slipped
away after a short illness of liver cancer, it is such a cruel disease and
I miss you so, so much, I cry everyday and still have all your things
around the house, sleep well tiggy, I love you so very much and cannot
contemplate everyday without ever seeing you again. love you so much tiggy
pops. x x x x


26/4/2000 - 29/102013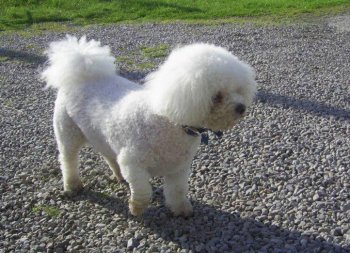 Your dad and I loved you so much and we knew that the
Cushings would catch up with you sometime. We miss you looking out the
back door watching for all the other dogs going past and still listen for
your paws on the wooden floors. Night night Ben.


Name : Bobbie Mcknight
Age: 11 yrs 8 months
30/7/2002 - 21/3/2014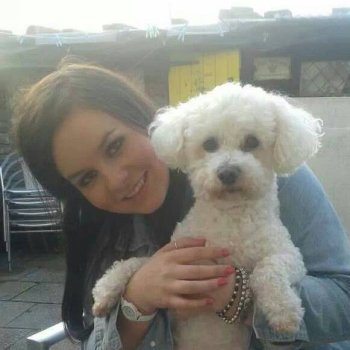 You were our world and we miss you so so much. You
were so beautiful, smart and loving. We know your never far away and your
always looking over us. Your place in our hearts will forever remain. We
are so blessed to have had almost 12 wonderful years watching you grow up
and we are heartbroken to have had to say goodbye. We will miss you and
love you always wee Bobs, from mum, dad and family, lots of kisses and
hugs


3/9/1998 - 25/3/2014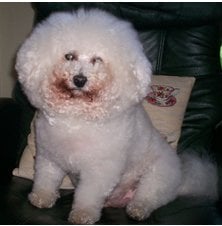 Dearest Bertie Buttons we had to make the awful
decision this week to say goodbye. You were such a brave little dog. We
had had you and your brother Max since you were eight weeks old and you
were the dearest little dogs in the world. Run free now my brave little
boy with your brother. There will never be another pair like you. Love
and miss you forever. Mum, Dad and Lulu.xxx


Name : Max & Bertie Buttons
Ages Max : 11yrs - Bertie 15yrs 6 mnths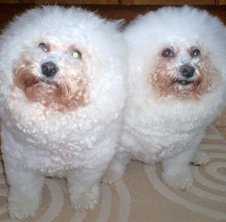 To the most beautiful bichons Max and Bertie Buttons.
You were the best little doggies in the whole world. We miss you so much.
Life will never be the same again but we are honoured to have spent the
time we did with you. God bless our beautiful boys. From your Mum and
Dad.xx


21/12/2002-23/5/2013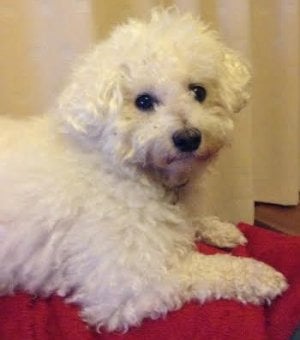 My best friend


May 2004 - June 2014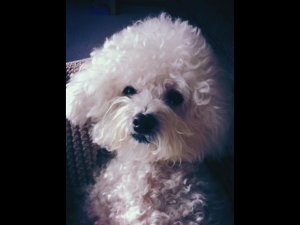 Our gorgeous Mollydog.., you brought us so much happiness in the last 10 years, you were such a character and we loved you very much and know that you loved us. You fought so hard to stay with us but in the end it was one fight too much for you sweetheart. We will always miss you, you taught us about unconditional love and have left such an empty space in our hearts. Sleep well Molly, love you always


17/9/2013- 20/7/2014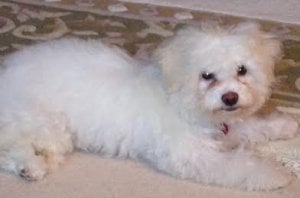 YOU ARE MY LITTLE STAR
LOVE YOU MILLY MOO
XXXXXXXXX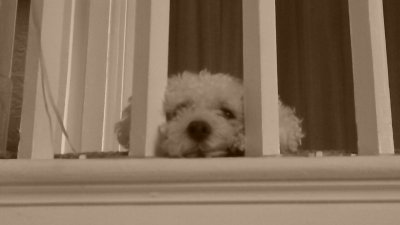 Henry you were such a little character, you are missed so much and will never be forgotton


10/7/2000 - 31/7/2014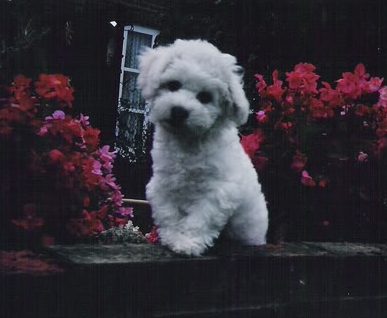 RioRio so good we named you twice. You were such a fun loving, mischievous bichon. Always a big smile, a happy heart and a waggy tail. There was never a dull moment with you around. I feel so alone without you but am so privileged to have been your mum. Your perfect little face is embedded in my heart. Thank you for sharing your life with us. We will never forget our "naughty" boy and will love you forever.


18/6/2007 - 20/10/2014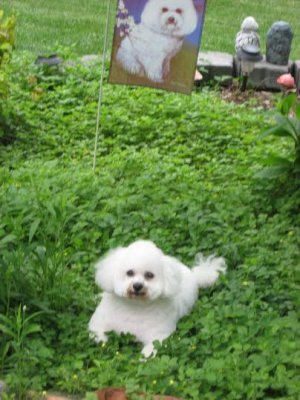 You were Daddy & Mommies little girl, and alway's will be. You talked to us with your eyes and turning or your little head. You always knew if mommy said no treat then you could alway's go to daddy because he could not resist you. If daddy or mommy was sick you alway's knew and never left our side. You were taken from us way to soon and we will miss you forever, You will alway's be in our hearts little angel. Walk with the angels little one as you have always been our angel. Your sister misses you so much also. Daddy & Mommy


24/4/1997 -26/4/2014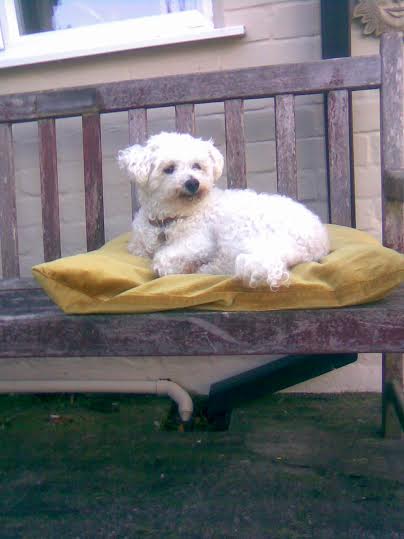 My best friend xx


14/11/2000 - 7/11/2014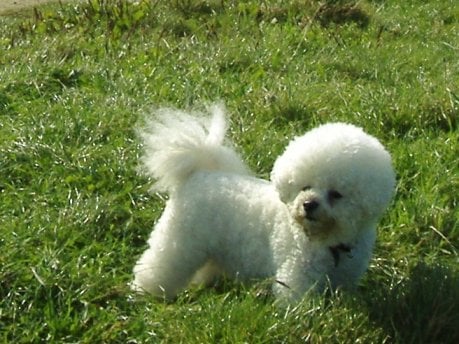 You came to me from bichon rescue at 9 months old and never left my side in 14 years. I didn't need to train you, you just wanted to be near me whether we went. Rio welcomed you with open paws and we had so many wonderful years together visiting our caravan every season and running along the beach. You loved being groomed and would stand still for me for ages, never complaining, even falling asleep one day whilst still standing on the grooming table. I lost you one week before your 14th birthday and I miss you so much. You are with Rio now at the Rainbow Bridge and I can't wait for the day when we are all reunited. Love You Mum


1999- 17/1/2015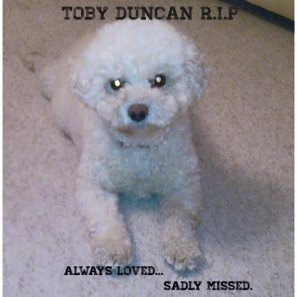 it is the worse day of my life losing you my darling Toby, when rescue bought you to me you had lots of health problems and we didnt think you would live long , but we fought for your life and you gave me your love as i gave mine to you , you lasted a lot of years love but its not enough for me or for your fur sister Lola we miss you so much . but you were in such pain at the end that we had to let you go . i will always love and miss you . run free of pain over the rainbow bridge and meet up with Zak Mum and Dad xxx broken hearted Mummy Pauline


2/11/2000 - 20/1/2015
To the best dog in the world my best friend I will miss you.


14/5/2003 - 3/2/2015
You gave so much love. My life is empty without you. Time to rest ma wee Nina. XXX


unknown DOB - 2/2/2015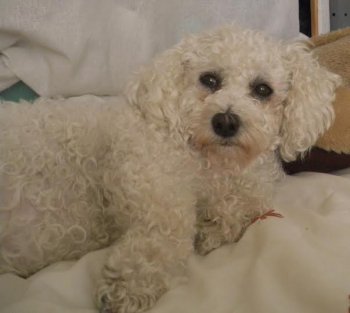 My beautiful angel Poppy. You had such a cruel start to life as a breeding girl in a puppy farm. I hope and pray that the 4 years 8 months you lived with me, made up for that. Such a brave and gentle girl, you were the love of my life. My heart is broken without you. I miss your cuddles so much, but you will stay forever in my heart. Run free sweet angel. Mummy and Molly xx


28.2.2004 - 18.3.2015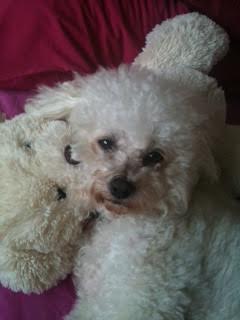 Miss you lots precious baby - you were a very special girl. xxx


14/5/2006-20/3/2015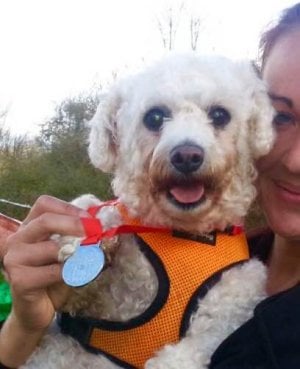 Jazmo small piece, you were and always will be the baby of our family. we feel so lost and empty without you, thank you for every priceless moment you shared with us. We would give absolutely anything to bring you back home but until we meet again my queenie go be with nanna, milky and Bella. Love you until the end of time. Mum, dad, David, Leanne and the turts xxxxxx


Name: Milou
Age 11 yrs 11 months
20/6/2003 - 5/5/2015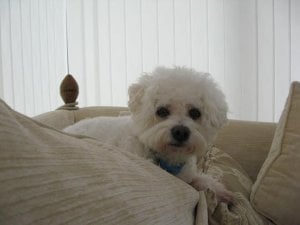 Miss you little one. Lots and lots of love mummy and daddy to our handsome prince.


16/4/2004 - 1/7/2015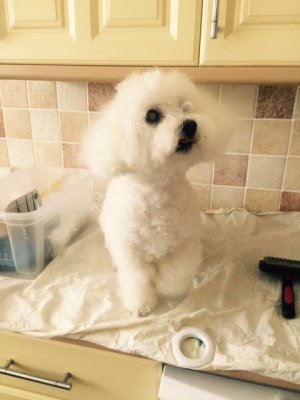 my heart is broken.i have lost one of my closest friends my beautiful poppy.i miss you so much .


10/4/2003 - 10/8/2015
We rescued our darling boy.we love you x miss you.forver in our heart's.rest in peace jack.till we meet again.xxxxxxxxxxx


2001-26/12/2015
Darling Mae passed on Boxing day 2015 our hearts are broken , she came to us from Bichon rescue as a beautiful 6 year old , there couldnt have been a sweeter more loveing little dog, she was loved by all who were lucky enough to meet pet and cuddle her , bless you Mae for all the fun and happiness you gave us , another bright star in the sky . xxx


10/11/2002 - 12/2/2016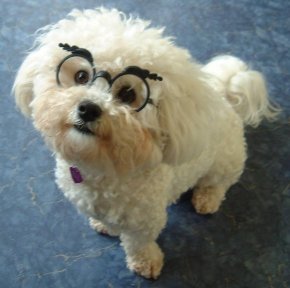 It is time to go to bed now, sleep tight our beautiful Barney Bee; we will never forget the huge gap you have left in our lives.
Letting you go was the hardest decision we have ever had to make so we hope you will understand why we had to do it.
Mommy and Daddy will always love you and we will always be here for you when you need us.
Look out for us every night when we look up and wish you goodnight.
Rest in peace, Barney and sweet dreams always.


8/1/2005 - 2/3/2016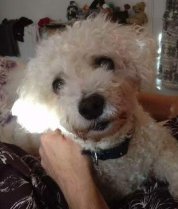 Our dear little Alfie (AKA Pumpkin) who came into our lives as a pup in 2005 and rescued us, you became ill with kidney failure and went to sleep on the 2nd March. We are so sorry that we couldn't save you. We are heartbroken and we will miss you each and every day. We will see you at the Rainbow Bridge one day. You left paw prints on our hearts forever, and a big gap in our lives for such a little dog.Love you always xx


Name : Jack
Age 14
1/1/2012-28/3/2016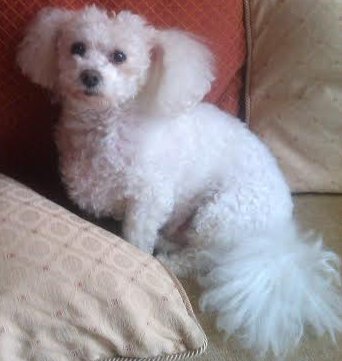 Our beloved Jack now reunited with Josh. You brought so much joy to our lives, thank you and God bless


9/6/2002 - 2/6/2016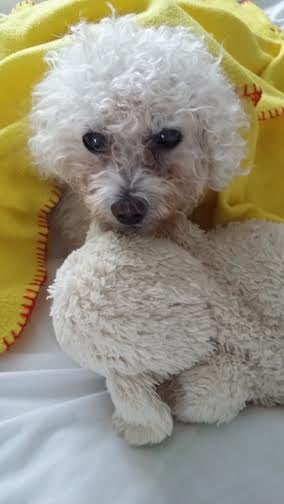 Peppedog went blind 7 months before he was sadly put to sleep, as he was ill, and his mom didn't want him to suffer any more. He had been so good, he had a happy life. His house is empty and his mom sad. He will never be forgotten. Linda. X


1/9/2004-25/6/2016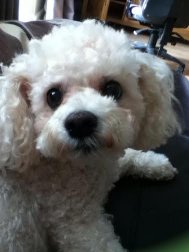 To my beautiful little boy, I miss you so much ,my heart is broken, love you forever my MARMADUKE xxxxxx


24/11/2005 - 15/3/2017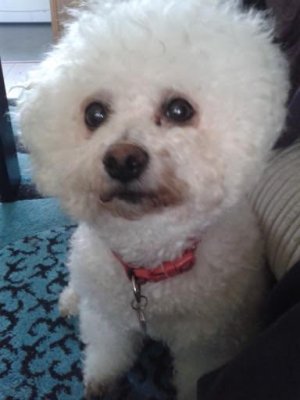 This is our little man Alfie, we got him 6yrs ago with his brother Ollie from this wonderfull site. He was diagnose with cancer back in September, he passed away in my arms on wednessday morrning. Your Dad and i miss you so much you were the most loving and perfect Bichon ever, run free little one xxx


May 2007- 19/5/2017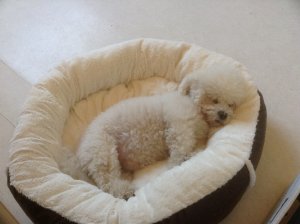 If love alone could have saved you, you would have lived forever.

Sleep tight little one until we meet again at the rainbow bridge.


Name : Max
Age 9 yrs
2008-6/3/2017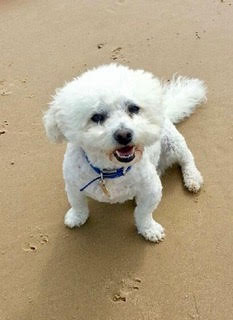 Dear Max, you were only in our lives for just under two wonderful years. Unfortunately you became very ill and we had to do the right thing for you. It broke our hearts to see you go but we are richer for having loved and lost! Miss you so much.


Name : Zac
Age 14 yrs
14/8/ 2004 -30/5/2018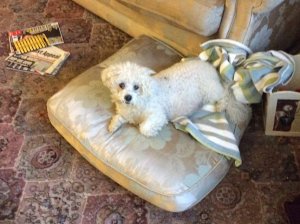 I cannot remember the last time I cried, until now. Zac was put to rest today. Even now his body would not give in. He was the true miracle dog; he outlived his sibling who didn't have anywhere near the amount of issues he did. Zac was 14 years old.
We picked Zac up (already named) as a Rescue Dog via the wonderful Bichon Frise Rescue Centre. Martyn my brother has allergies, and as they don't really shed hairs, this is why we chose Zac. He was approx. 2 years old when we got him, and so he has lived to be 14 years old.
It is apparently 40 million-to-1 all the conditions and issues Zac had. Yet only at the very, very end did he suffer; hence our decision to allow him to go. Literally the UK's top Specialist vets have treated Zac and they have said they had honestly never seen a dog with such resolve; Zac literally was the dog where you read on medication "One in x thousand dogs will react like this...". He genuinely baffled the best vets there are. Even when he was having significant kidney issues, he actually IMPROVED his bloods and kidney readings to the genuine shock of the vets.
Zac was also lucky to have a family, specifically my parents, who were willing to be as hands-on, supportive and determined to give Zac the best life they could possibly give him within his limitations. I did what I could on the research side of things, and when we managed to 'mould' the vets, we all worked well as a team.
Zac was not like a 'normal' dog in that he wasn't loyal (apart from to Dad) or unselfish etc.-quite the opposite. He was an amazing character though and gave us years of fun, laughs and pleasure. He was loved by everyone who ever met him-we still get people coming to the house just to see Zac!
I will miss him dearly. He was more than 'just' a pet. He was a major part of our family. Like my Brother is, Zac was unbelievably strong; truly amazing resolve .
I feel tremendously lucky to have had Zac in my life; I know we all feel the same. I hope now he is at rest. He defied the best medical minds alive, he had unbelievable resolve and I took and will take genuine inspiration from him.
Thank you Zac for entering our lives. Thank you Mum & Dad for being so supportive and putting your money where your mouth is. I am not ashamed to say I love you Zac, I cry for you and your loss will be something we probably never totally get over: you were completely unique.
May you now get the peace you deserve.
Love your Brother Adam


Name : Pebbles
Age: 13yrs 6 mnths
11/8/2005 - 28/2/2019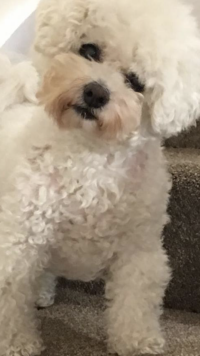 Beautiful Angel, we will always , always love you, darling brave Pebbles


Name : Ollie
Age 12 yrs
7/11/2007 - 1/3/2019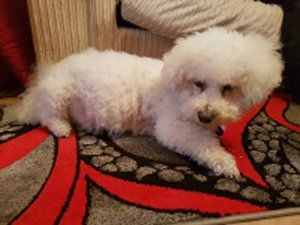 We had you for 8 years and loved you from the first time
we saw you standing outside on the grass with your brother Alfie next to you
We lost him two years ago, and now you.
Now Daddy and I have a big hole in our hearts, I know you and Alfie are running around together at the rainbow bridge.


Name : Benji
Age 6 yrs 9 mnths
9/8/2012 - 9/5/2019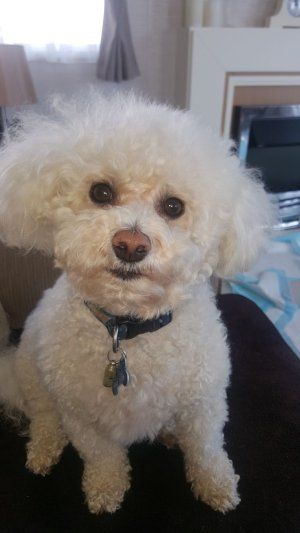 Our Little Boy..you showed us so much love and devotion, and what a character you were...you had us wrapped around your little paws.
You left us far too soon our little Benna-Boo and broke our Hearts
But you left us with so many happy memories...
Until we meet you again our little Boy love you always and forever..
Mum & Dad xxxxxxxxx


Name : Charlie
Age 12 yrs
7/5/2007- 30/5/2019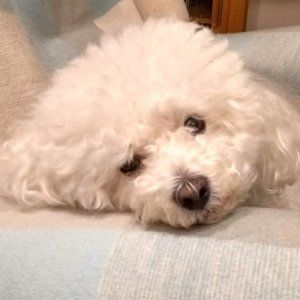 Our darling beautiful boy .He filled out hearts with love .So gentle kind and friendly a precious soul not a bad bone in his body .We miss you everyday and our hearts are broken .Run free my baby dog .
Love you forever Daddy and Mummy xx


Name : Lola
Age 14 yrs 3mnths
7/7/2005 - 11/10/2019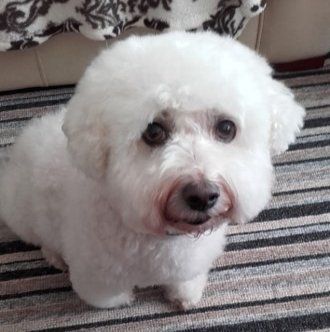 my darling Lola you were the first Bichon i had and a year after having you i asked for another and i got Toby he was a very poorly boy when he came but with our love and your encouragement we got him well sadly he passed away and you missed him as much as i did but you then desided that you had to look after me and you became my loving shadow where i went you had to go too. we became soul mates i have never loved anyone the way i loved you i feel as if they have cut my heart out . i will come to be with you both again one day and i hope that Zak will be there too. i think you would love to know how many people have sent messages to me but it makes it so much harder to bare my Lolabell i could go on talking about you forever my Lovely girl good night God bless you and stay happy and near to the rainbow bridge so i can find you never to be parted again xxxxx


Name : Sooty and Sweep
Ages : 18 yrs 3 weeks
1/11/2001 -21/11/2019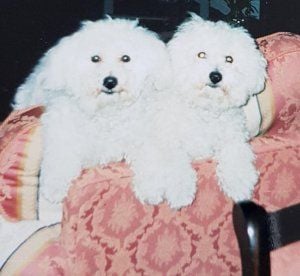 The Boys Sooty and Sweep brothers
Thank you for18 wonderful years we will never forget you sleep tight.


Name : Rosie
Age 8 Yrs
18.1.2012- 3.3.2020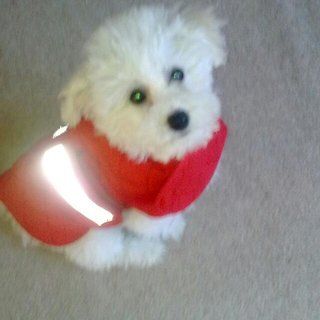 My darling beautiful Rosie. You were as bright as a button and as sharp as a tack. Just 8 short years we miss you so much, the house is so quiet without you and Skye is lost without you.
You left too soon, our hearts are aching.
We will speak of you often, and will never forget you.
Rest well beautiful Rosie. Wishing you were still here, praying for you too
Nite nite Rosie
mommy and daddy and Skye xxxxx
Our funny little Rosie xxxx


Name : Mitzi
Age : 14 yrs
2003- 2017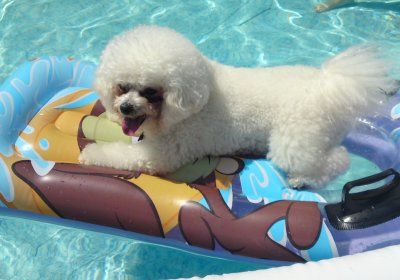 Rest well little one, we love you and miss you more than we can say. Reunited with your partner in crime Digby. xxx


Name : Binty
Age 13 Yrs 10 mnths
2/6/2007-27/4/2021
My beautiful princess, Binty. You have filled our lives with so much joy and happiness. Thankyou for being an amazing little dog. You were like my shadow, and I will miss you so much. Your love truly is unconditional, and we love you so much. Sleep tight gorgeous girl. XxxX


Name : Button
Age 11 yrs
19/3/2009-27/11/2020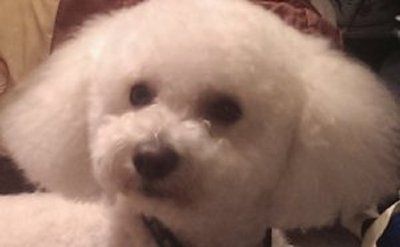 One day we will be together again over the Rainbow Bridge


Name : Daisy
Age 8 yrs old
14/5/2013 - 11/11/2021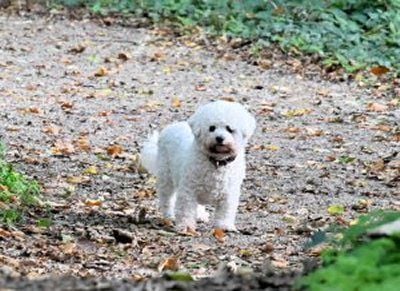 A wonderful devoted companion.


Name : Tilly
Age 16 yrs
31/8/2005-15/01/2021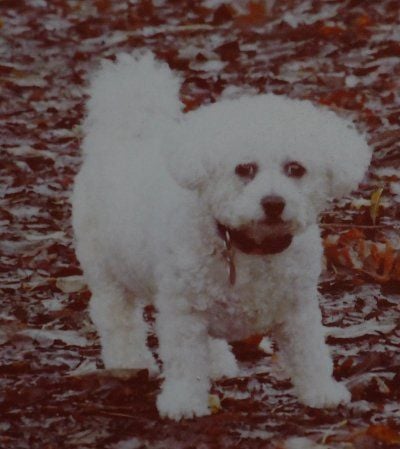 A beautiful and much loved rescue girl - photo from BFR calendar 2020


Name : Polo
Age 13 yrs
March 2006- 29/6/2019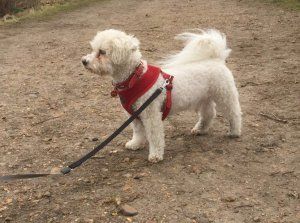 " You were the best "


Name : Sophia
Age 17 yrs old
2005-25/5/2002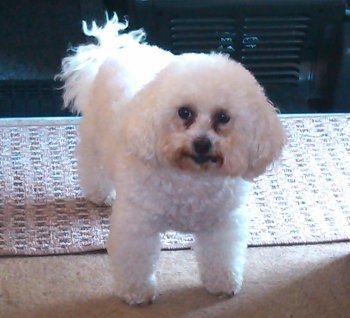 We adopted Sophia twelve years ago she was about five years when we did.
Our hearts are broken,will time make this feeling easier??
I miss my Sophie soooo much ,such a kind little girl ,my gardening buddy.
My very best friend ,we love you Sophia our little girl.
Great big loves always in our thoughts my little girl. XXXX


Name : Barney
Age 11 yrs
6/4/2010-12/3/2022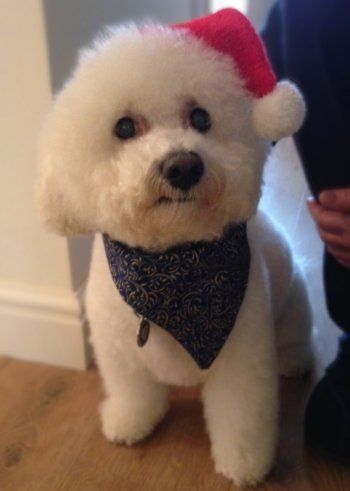 We rescued you beautiful boy but I really believe you rescued us,I miss your love and our cuddles but I know you'll be waiting for me at the bridge. God bless my beautiful Barney thank you for sharing this life with me.


Name : Beattie
Age 14
Feb 2008 - 25/7/2022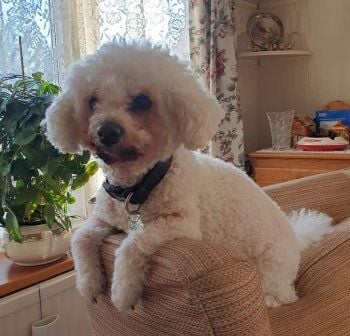 Our beautiful Beattie B, we only had you in our lives for 2 years but you brought so much love and sunshine to us and Poppy. Lots of love from Mum and Dad xxxx.

Name : Alfie
Age 10 yrs
15/10/2005 - 29/9/2022
I miss you so much, my heart us broken. But wait for me on the Rainbow bridge with Maisie Moo,.Mummy loves you so much xx


Name : Barney
Age 11 yrs
6/4/2010 - 12/3/2022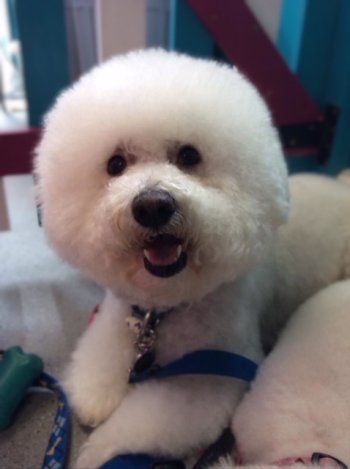 My beautiful Barney, you gave me so much love and I loved you unconditionally, you leave behind your sister Daisy for me to adore as I always have. Please wait for us at the bridge and we'll all cross together one day. My heart is broken


Name : Coco
Age 14 yrs
9/5/2009 -19/8/2023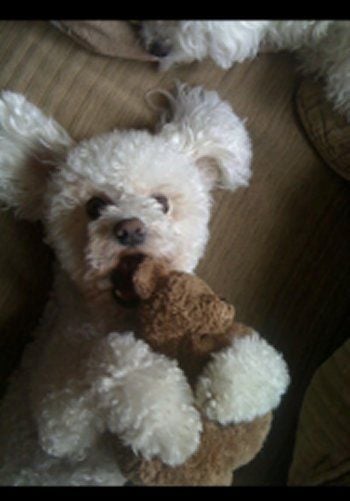 We had the privilege of adopting Coco from The Bichon Frise Rescue Centre when she was 2 yrs old. Coco brought such love and joy to our lives and to her sibling Noodles who was 1 yr old when we had Coco. They played together everyday and had the "Bichon Blitz" together around the house and garden most days :) We all loved Coco's beautiful big brown eyes and she had a lovely temperament. Our beautiful and clever Coco will be sorely missed by Noodles and all of us. Rest in Peace Coco.